WORKING OUT WITH A PURPOSE!
TEEN MARTIAL ARTS
ZMA IS ALMOST HERE
PRE-REGISTER NOW AND GET
SAFE LEARNING ENVIRONMENT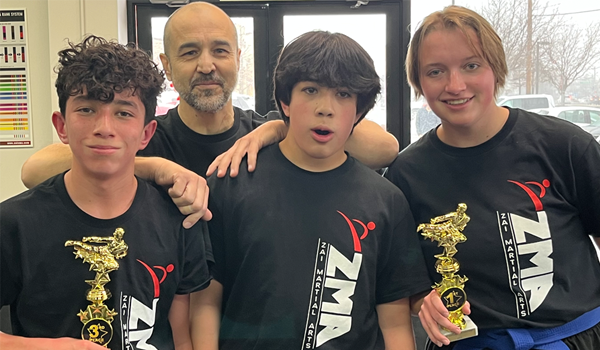 TEENS (age 13-18) STRIKING ARTS
The Zai Martial Arts high-energy striking arts classes combine training in Karate, Kickboxing and Muay Thai training 
√  Push your boundaries
√  Bag work
√  Strength training
√ No nonsince self defense
FREQUENTLY ASKED QUESTIONS
HOW DO I PREPARE FOR MY FIRST CLASS?
No preparation is needed. Just wear comfortable workout clothes and show up about 10 to 15 minutes befor class, our instructors will handle the rest!
HOW LONG ARE THE CLASSES?
Our classes are 45 minutes. we do recommend students how up at least 15 minutes before for warmup.
DO YOU OFFER BEGINNERS CLASSES ?
Yes, we offer beginner classes for adults and kids. No experience required
WHAT DO I WEAR FOR MY FIRST CLASS?
We recommend sweats and a t-shirt.
HOW IS ZAI MARTIAL ARTS DIFFERENT ?
Zai Martial Arts sets itself apart in several ways. Firstly, our head instructors possess a minimum of 10 years of experience and  demonstrating a high level of dedication and expertise. Additionally, our curriculum is both unique and unparalleled, providing students with a comprehensive and effective approach to martial arts. Finally, we pride ourselves on offering professional and aesthetically pleasing facilities, setting us apart from any other martial arts school. Simply put, there is no other martial arts program quite like ZMA
WHAT SHOULD I BE AWARE OF BEFOR BEGINNING CLASSES?
Prior experience is not necessary to participate. All you need to do is wear comfortable workout clothes and our team of skilled instructors and professional staff will guide you through an exceptional workout and teach you a valuable skill that has the potential to transform your life.
HOW MUCH DO CLASSES COST?
Our classes range from $15 to $25 depending on the program you choose.
HOW MANY TIMES PER WEEK DO I ATTEND?
We recommend a minimum of two classes per week. Many of our students like to attend three or more classes per week.
AT WHAT AGE DO CHILDREN START CLASSES?
Our Awesome kids program begins at 4yr. Our Youth martial arts program begins at 7 yr. old.
DO YOU OFFER FAMILY DISCOUNTS?
Yes, we offer a 10% discount for each additional family member. In addition, we offer active law enforcement a 25% discount.
HOW IS ZMA KICKBOXING DIFFERENT FROM CARDIO KICKBOXING AT A GYM?
The head instructors at Zai Martial Arts are experienced and highly skilled professionals in the field of martial arts, with at least 10 years of dedicated training. They offer authentic and effective Muay Thai Kickboxing techniques that can be applied in real-life situations if the need ever arises. In contrast, many instructors of cardio kickboxing lack significant martial arts training and may only have experience as aerobic instructors.
IS SPARRING OR CONTACT REQUIRED?
Participation in sparring and contact activities is not mandatory. We provide distinct classes for individuals who are interested in sparring.
COMING SOON TO LIVERMORE CA